---
NEW 2017! MASSAGE CHAIR SHIATSU RECLINER *MP3, BUILT-IN HEAT* !!! REGULAR PRICE $2,999 !!!



NEW Shiatsu Massage Recliner. MP3 Music Chair.
Built-In Heat Therapy in the back.
Unique Model with this function.
Legs stretch up to 16 inches to the front.
New improved accupunture arm message
Larger remote control.
10 years warranty




This chair is sold by us brand new, not used, not factory refurbished like many others. You will receive this chair in a factory sealed never opened new box. We are factory direct certified distributors for this massage chair in the United States, buying directly and selling directly to our customers, the only way we can absolutely offer the best price. Please contact us if you find it different anywhere else. Many sellers offer the very similar product for a much higher price even if refurbished. We do not sell any refurbished products; all are new in the original factory box. We offer a 100% satisfaction guarantee in this item. If you are unhappy with your purchase, simply repack it as you received it, and ship it back. We will refund your purchase in full, less original s&h costs. You are looking to a great product for the best affordable price on the web. This product is a new luxury beauty health bc-11d massage chair, the upgrade chair from our model bc-07 series. Have you ever wanted to return from work and just relax while having a full body massage? Even once a week? Well, you can have it daily! 24 hrs. A day, while doing whatever fits better to you at that time.

This luxury chair is fitted four-wheels driven muted massage hands mechanism vertically movable. You can adjust the vertical position of the massager at any point of your back you wish, upward and downward from the very low back to your neck. This chair offers the best of the shiatsu massage. Equipped with real humanized mechanism massage hands, functioning with 6 massage functions: rolling (back stretch), kneading, flapping, kneading & flapping, shiatsu, knocking and vibrating.The white LCD screen (the largest horizontal remote control panel in the market, larger than any Panasonic model, same as Sanyo model hec-dr 7700k).
Shows all the massage functions, width of the massage hands, massage position and many other functions. The back light will last one minute after the massage stops.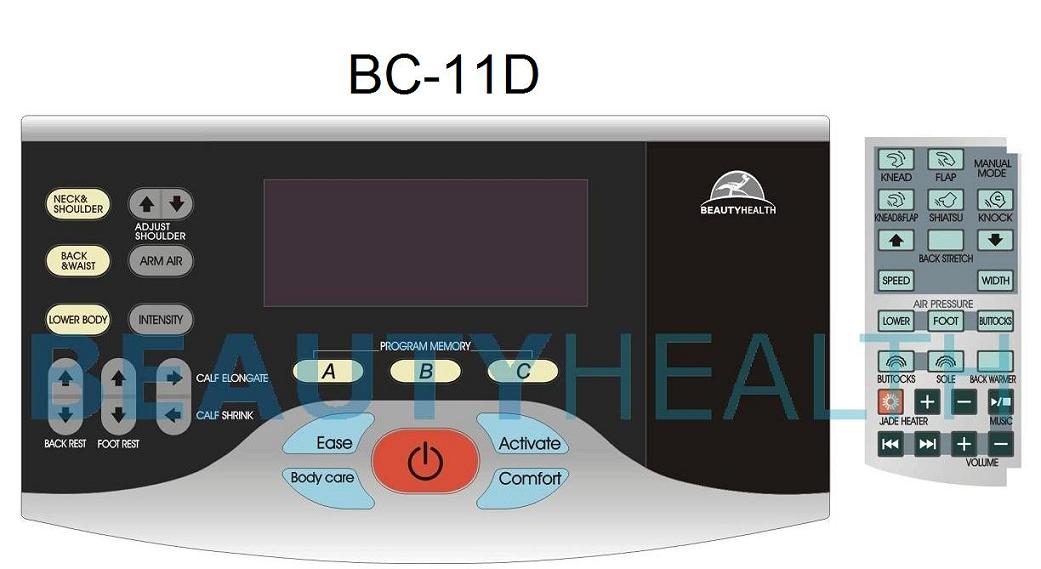 Manual and automatic modes are offered. Under the automatic mode, it offers multi-functional automatic massage methods.
Totally, you can have 28 types of massages from head-to-toe + 4 new auto programs (ease, activate, body care & comfort), where you can choose a lot of different massage types.
You can massage the whole body, the shoulder and the neck, and the back and the waist. Under the manual mode, you can adjust the rollers at any point you would like, you can also adjust the type of massage, width, speed, strength, airbags modes, vibrators, etc.
Each massage function has five-level speed options; the width between the massage hands is adjustable to three positions (wide, medium and narrow).
the seat cushion is mounted with  fourteen air bags, the calf rest is mounted with eighteen air bags, which provides four air-massage combinations, with 2 intensity levels, the foot rest is mounted with twenty airbags as well, and 4 modes of massage.
The arm massage comes especially designed with 40 airbags, to deeply massage your arms, with 3 intensities to choose.
here, this chair comes with a unique function:  the armrests move all the way back along with the chair, which makes the arm massagers to always be close to your arms, providing an amazing arm massage at any chair angle.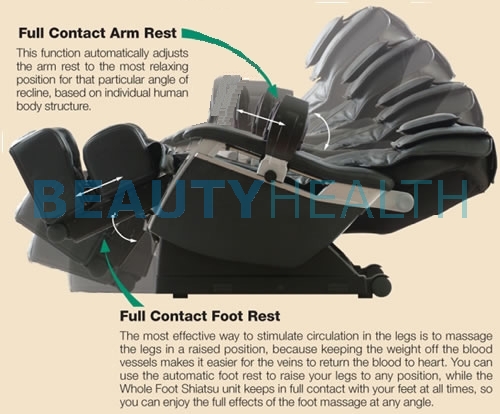 You will get a fully healthy massage from your neck and shoulders, to your complete back and waist, to your buttocks, thighs, calves and foot!!!
Is not this what you ever wanted? It is like having a personal masseur on call 24 hours a day!!! Now, every day, you can treat yourself to the soothing pleasures of real massage... all along your spine!!! And of your calves!!! And your feet too!!!
This chair features different massage mechanisms, as listed below:
a) Rolling: when moving up and down, it functions like the fixed-point of revolving finger pressing by professional masseurs for more direct and effective massage effect.
b) Kneading: reduces muscle pain and works out knots.
c) Shiatsu results: power rollers are used to give you the experience provided by masseurs, relaxing muscle stress, reducing fatigue and rejuvenating the mind and body.
d) Compression & percussion: improves felicity. Mobility and posture of the legs.
e) Chop action tapping and flapping: reduces soreness and ache fasten, relax stiff muscles and soften thick layers of fatty deposits, stimulate nerves and stressed muscles.
f) Vibrators, at the foot, calves, seat cushion and recliner feels great combined with the rollers at the back!!! The vibration massage function stimulates the dilation of blood vessels. This helps create an elimination of impurities and toxins in your blood, tissues and organs.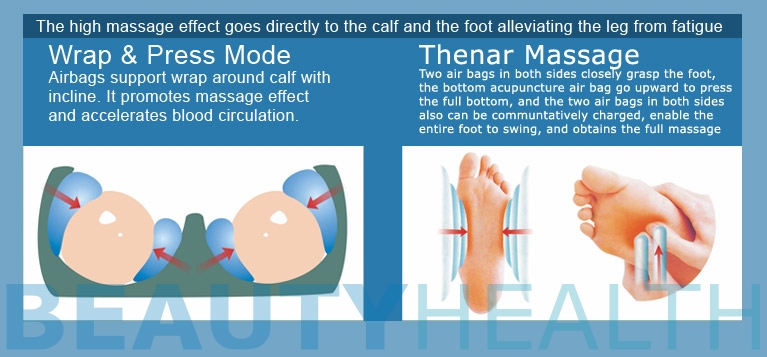 • Mp3 player, with integrated memory SD card and usb adaptor, to download your favorite music.
• Digital high quality headphones, to relax and forget the external world.
• "s" type ergonomic straight chair back with 2 layers back pad an extra removable pad is now included.
• Humanized massage integrated with multi manners: walk, sway, scratch, knead, press and tap.
• controlled by electricity and air enforce the massage on the calves and feet.
• Unique movable massage to a larger area.
• Multi-posture zero gravity electric reclining, only needs 7 inches against the wall.
• Multi-posture under horizontal electric reclining, up to 180 degrees (flat horizontal, like a bed) to promote the better blood circulation.
• adopted advanced computer chip and digital control technology.
• unique safety design: when the calf/feet rest is moving down and touches obstacles such as children or pets, the calf rest will stop automatically to help protect the safety of others.
• Quiet, noise-less motors to improve the relaxation.
• 320 lbs. weight capacity.
• Manufacturer's certifications: ISO 9001/CE.
• Wheels on the bottom back of the chair for easy movement.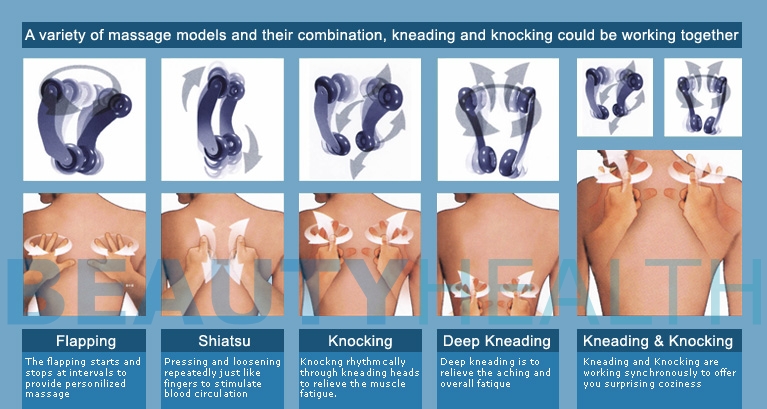 Warranty: for a limited time, we are offering a free 10 year extended warranty (10 years for the steel frame and body, 5 years in all electronic parts). After the warranty period, we always supply all spare parts almost for free. It is very easy to exchange any part, we always provide detail instructions, with pictures, step by step, and it will take you less than 10 minutes to exchange any part returns: we offer a 100% satisfaction guarantee on this item. If you are unhappy with your purchase, simply re-package it exactly as it arrived, and ship it back. We refund your purchase in full, less original s/h cost.